For You
Our Chorus
Our Director
Our Repertoire
Old Timers/Guest Night
Our Annual Show
How to join us
How to find us

Quartets
About Quartets
• Precision Tuned
• Irrational Exuberance

Happenings
Upcoming Events
Links

Members
Uniform information
Our Members
Leaders
• Chapter Officers
• Past Officers
• Past Leaders
Members Only


Our Chapter




Hometowne USA is the performing chorus of the Montgomery County, Maryland chapter of the Barbershop Harmony Society. Our Members sing together because we enjoy music and good company and are committed to sharing our music with our community.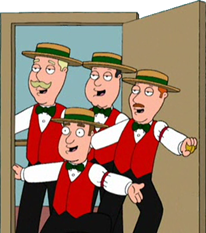 SAVE THE DATE! DONíT MISS IT!
2017 Hometowne USA Barbershop Chorus Concert

Our Our annual Show is coming up on Saturday, May 27th,
one show only, at 7:30pm.



Featuring a Variety of Old and New A Cappella Songs by:

Hometowne USA Barbershop Chorus
Irrational Exuberance Barbershop Quartet
and Youth Talent Guest Ensembles:

Tilden Middle School A Cappella Singers
Chocolate (Walter Johnson High School Boys Group)
Vanilla (Walter Johnson High School Girls Group)
Red Velvet (Walter Johnson High School Mixed Group)
---
At the F. Scott Fitzgerald Theatre
603 Edmonston Drive
Rockville, Maryland


---

Tickets are $15 each for advance sales and $20 each at the door. Children 10 and under FREE!
Show Tickets are Available NOW!
Reserve Now: Doug Mader (301) 466-1378 or by email.

Public
performance information, come hear us sing!
Information
for our members about upcoming performances and rehearsals
---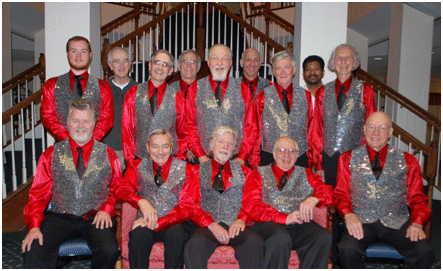 Our members are from all walks of life, and range in age from those in their 40's to some in their 80's!



We perform regularly in the Washington, D.C. metropolitan area. Take a look at our Upcoming Events page for opportunities to hear us perform. We sing show tunes, patriotic songs, ballads, spirituals and love songs all in Barbershop harmony. Our Annual Show presents a wide variety of songs to please listeners of all ages and makes a great evening out for your whole family. Or, let us brighten your organization's next event with our Chorus or one of our Quartets. Email us your name and phone number and our Bookings representative will contact you promptly.
---

Do you like to sing?

Our chapter is looking for men of all vocal ranges, with or without prior experience singing in a chorus. Our society also encourages quartet singing and can help you meet other like-minded men. We meet each Wednesday evening at 7:30pm in Potomac, Maryland, look HERE for directions. For more information about becoming part of our chapter, view our how to join page.
| | |
| --- | --- |
| While you're here, you also might want to look at: | |
Created and maintained by

Richard A. Cook